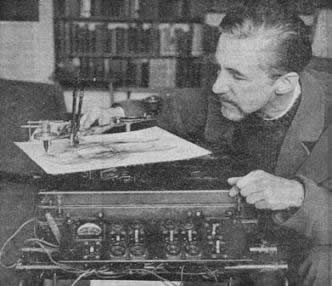 The machine in action
"The computer, which hums a drowsy dirge to itself while working, is only a fraction of the size of the giant Atlas computer at the University (of Manchester). The Ideograph analogue computer is a mere two feet square and consists of a host of dials, springs, coils, gears, small electric motors and little flashing lights.
Dr. Henry keeps the computer in front of his desk in the bay window of his book-lined study. The computer draws with three individually suspended spring-loaded ball-point pens filled with colored inks which it wields in its shiny chrome hand. The paper or card on which the drawing is done is attached to an easel which can move in a horizontal plane at the same time as the computer's hand is drawing on it."